"How much should I be spending on marketing?" is a question I frequently get asked, and it's a hard one to answer. In all honesty, most people don't like my answer, "it depends." Many factors go into deciding how much money to allocate for your marketing budget. To help answer this question a little bit better, I created this budget thermometer. The thermometer's idea is to help align your business needs with the ideal percentage of revenue to allocate to your marketing budget.
Minimal: Stay the course – This is the lowest percentage of marketing budget allocation. A minimal marketing budget is ideal for businesses that just need to stay the course. You have a steady pipeline of sales, your team is productive, your expenses are under control, you're meeting supply and demand, and you just need to stay present for future opportunities. You may boost your spending during slow seasons, but you already know when those are. For example, if you are a seasonal resort that is busy when schools are off or during holidays, you could spend your budget to boost the slower weekends.
Slightly: Start the engine – You have been busy with day-to-day operations, and marketing may have fallen to the side for a while, but now you're ready to get started. It's time to fire up the engine and get in front of your ideal customers. Or maybe your sales pipeline is slowing down, and you need to get in front of your ideal customers more. Some things to consider, do you know who your buyers are? If so, target them head-on with your budget to get the best results.
Moderate-Heavy: Kick it up – This percentage means it is time to kick it up a notch! Or maybe you are just getting your business started. It is essential to execute your marketing strategy across multiple channels, such as digital, social, print, email marketing, etc. You will want to make sure that all of your messaging is consistent and align them together to increase your touchpoints. (Touchpoints are the number of times your advertising message gets in front of a prospective customer. These are more than impressions; an impression is just one form of a touchpoint.)
Extreme: Launch – This is the highest percentage on the thermometer, and it's ideal for startups prepping for a big launch. This is great for widget selling because you can immediately measure and see your return on investment. The idea is, spend more, sell more immediately, and watch the revenue. It is a bit different for a service-based business where the purchase decision relies on relationship building.
I have included the chart below to show the different marketing budgets based on the percentage of revenue.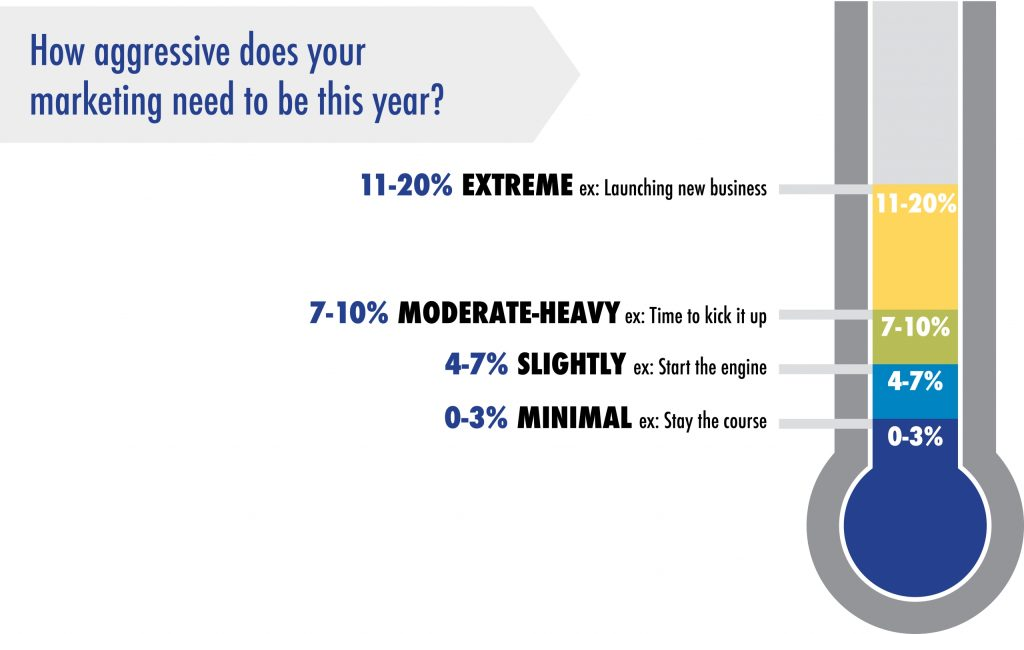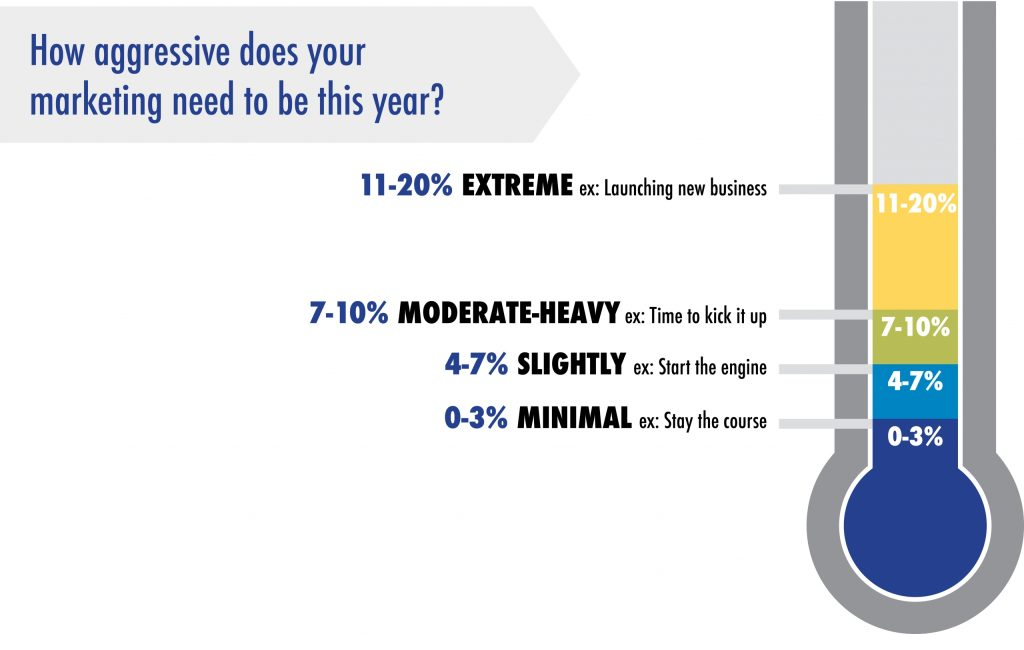 Once you have dug deep, weighed your options, and determined the percentage of revenue you are ready to invest in marketing, then it's time for allocations. This is where we come in! You'll want your marketing experts and vendors to help break down the allocations and determine where you will get the best bang for your buck. If you are trying to expand your reach, you'll want to avoid putting all your eggs in one basket. But maybe due to internal situations, you may want to put all of your budgets into just TV and streaming because this exposure volume is what your internal teams would be able to turn around best.
Another critical factor is the projected results or your ideal goals. For example, you want to obtain 100 new customers in the next 30 days, and you have $TBD to spend on marketing to do it. You know exactly who your buyers are, where they are, and your systems are locked in place to convert them from prospects to buyers. If there are friction points at any of these stages, marketing will struggle to get you the best results.