We hear the word "brand" and "branding" all the time when talking about marketing and advertising businesses to generate growth. Sadly, this term has such a variety of interpretations that it's often misused and misunderstood. So, what's branding all about?
Branding is so much more than a logo or ad – it's the whole experience that a consumer has when they interact with a company.
But where business owners get stuck is where, how, and who interacts with their business. Plus the overwhelming tasks that come with encouraging prospects to interact with your brand and company.
The depth of interaction, and all the instances that touch your consumers, I call a, "brand umbrella".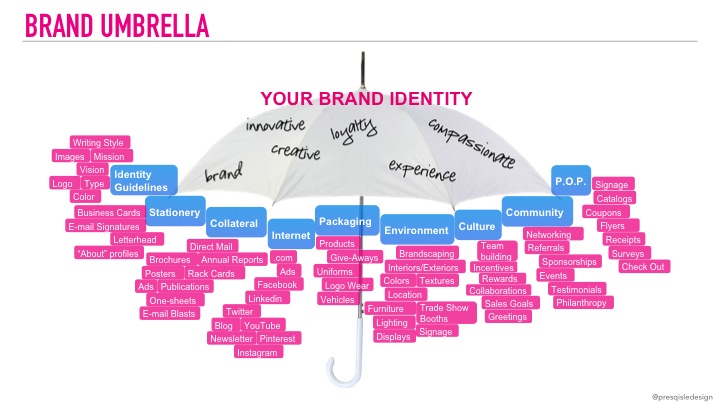 It is overwhelming to manage all the different touchpoints that create the entire brand experience, especially when you're a small business with a limited budget and time. Businesses launching for the first time can easily get consumed with the legal, accounting, products, brick & mortar, employees, and supplies that all help create income, funding your business. But starting a business or launching a new branch of your company, should be done strategically and with precision.
One way I keep all the aspects of marketing together, is by defining your own authentic, 'brand umbrella' with your core values. These core values will help in creating the visual representations that are crafted to tell your authentic story as well as set clear expectations of what the consumer will experience when they work with you. These expectations have to be defined so that each touchpoint is consistent and powerful, and drive results.
The items resting under your brand umbrella are brand touchpoints or the elements that touch your consumer. When your brand umbrella is strong, focused, and aligned your business will stand out from the competition and make people ready and excited to work with you.
Corralling all these touchpoints can be time consuming, so it might be useful to hire a professional to help navigate your marketing and branding. Whether it is a long term commitment or by project/special ad campaigns, executing it with intention and consistency is the perfect equation for smart business growth.
What does your brand umbrella look like? Do you need a brand and marketing audit to evaluate your current marketing and advertising investments? We would be happy to conduct an audit and offer ways to increase your brand experience to engage your ideal consumers – this is your time to shine and share your authentic services that your consumers are anxious to have.